How to Speed Up File Transfer in Windows 10
Thanks to "TheBobieaanland" who responded a helpful link to the question.
Solutions to Slow USB Transfer in Windows 10
Copying files between USB drives and computers is one of the most basic ways to share data. But lots of users complain that their PCs are transferring files very slowly on Windows 10. The easiest way you can try is to use a different USB port/cable or check/update the USB drivers if they are outdated. If the situation doesn't improve, continue to use the following advanced solutions.
1. Check USB or Hard Drive for Corruption
The first step to fix the slow USB transfer issue is checking its state. You can use the Windows built-in tool for help. Once you start the process, it will find the corrupted sectors and fix them if needed.
Step 1. Open "This PC" or "File Explorer".
Step 2. Right-click on the USB drive or hard drive and click "Properties".
Step 3. Click the "Tool" tab. Under the "Error checking" section, click "Check".
2. Change the Removal Policy for UBS Drive/HDD
The external USB drive or HDD on your computer provides you with a Quick removal policy that avoids caching and Better performance policy that writes caching. If your USB flash drive is small-sizes, you'd better choose the former one. While if you are using an external hard drive to move large files, the Better performance policy is more appropriate. Let's see how to change the Removal policy.
Step 1. Plugin in your USB or external hard drive to the PC.
Step 2. Click "Start", type Device Manager, and open it.
Step 3. Expand the "Disk drives". Then, right-click on the target drive. Open "Properties" and select "Policy".
Step 4. Choose a Quick removal policy for USB flash drive and Better performance policy for the external hard drive.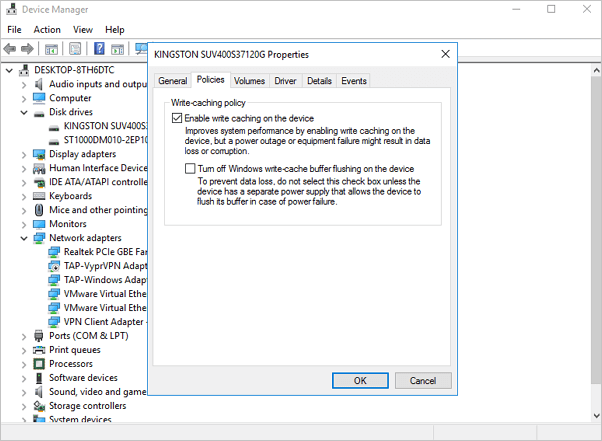 ​
3. Format USB Flash Drive to NTFS
After you convert the USB drive from FAT 32 to NTFS, there may be visible improvements in the transfer speed. 
Fixes for Windows 10 Slow Network File Transfer
Some people may find that the network data transfer becomes very slow in Windows 10. To solve the problem, two approaches below are worth trying.
1.  Disable Windows Auto-Tuning
If you are copying some data over the network, the auto-tuning feature can improve the performance for programs that receive TCP data over a network. But in some situations, disabling this feature might bring a faster copy speed.
Step 1. Press Windows key + X and select Command Prompt(Admin).
Step 2. Type netsh int tcp set global autotuninglevel=disabled and press Enter.
Step 3. Now try to transfer the files and check the data transfer speed. You can go to Command Prompt(Admin) again and type netsh int tcp set global autotuninglevel=normal and press Enter to turn on the Auto-tuning again.

2. Turn off RDC (Remote Differential Compression)
The Remote Differential Compression feature can cause the slow network file transfer in Windows 10. To fix this problem, you need to disable this feature on your PCs by doing the following.
Step 1. Press Windows Key + S and enter windows features. Click "Turn Windows features on or off".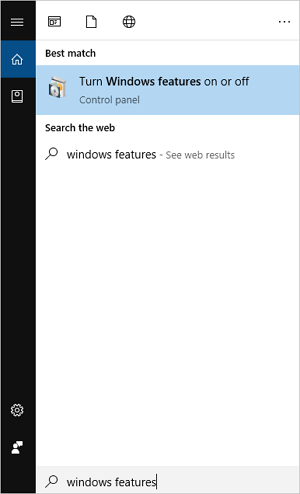 Step 2. Find and uncheck Remote Differential Compression and click "OK".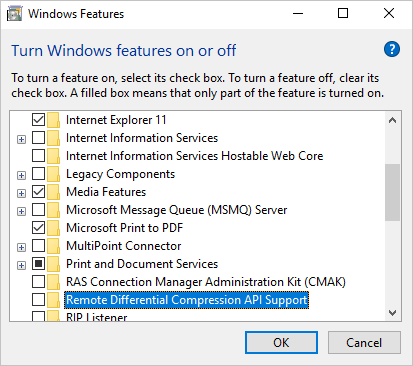 Step 3. Restart your PC. You need to repeat this on all the computers on your network. After that, check if the problem is still there. 
Methods for Windows 10 Slow File Transfer on Hard Drives/Disks
The slow data transfer also can be hardware or computer issues. You might be able to fix this simply by disabling certain antivirus or cleaning up temporary cache files. If these don't work, move to increase the disk transfer speed from the following points.
1. Disable Drive Indexing
Windows offers Drive Indexing feature to index all files and substantially reduce the waiting time when you search for them in File Explorer. However, it can slow the data transfer speed if it starts indexing data while the copying is still going on. So, we suggest that you can temporarily disable Drive Indexing for a trial.
Step 1. Open "This PC" or "File Explorer".
Step 2. Select the partition you want to turn off the indexing feature. Right-click it and click "Properties".
Step 3. Uncheck the "Allow files on this drive to have contents indexed in addition to file properties" box and restart your PC to enable the function.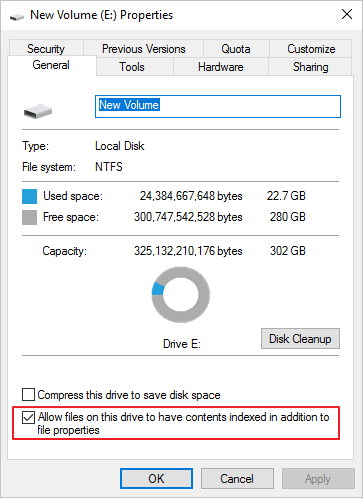 2. Convert File System from FAT to NTFS
EaseUS Partition Master Free allows users to convert FAT to NTFS without losing data effortlessly. Now, download this free partition manager software, and let's begin.
Step 1: Install and launch EaseUS Partition Master on your computer.
Step 2: Select a FAT32 partition, right-click on it and select "Convert to NTFS". If you need to convert a storage device such as SD card or USB flash drive to NTFS, insert it into your PC first and repeat the previous operation.
Step 3: Click "OK" on the pop-up dialog box to continue.
Step 4: Go to the upper left corner, click the "Execute 1 Operation" button and you will see the operation details. Click "Apply" and "Finish" when the process completes.