DriverGenius CUG3125 | USB Type C to 2.5G Ethernet Adapter
$4599

$45.99
Tax included.
Shipping
calculated at checkout.
---
---
DriverGenius CUG3125

USB Type-C to 2.5G Ethernet - Replace or upgrade your macBook Computer to 2.5G Network for Connecting your 2.5G Network Switch Router Modem.
2500Mbps Network Adapter - 2.5 Times Faster than 1Gbps Gigabit Ethernet and Backward Compatible with 10/100/1000Mbps. Supports Twisted Pair Crossover Detection and Auto-correction.
RJ45 Ethernet to USB-C - Simply Use your Existing CAT5e/Cat 6 or Higher Cables as Normal with your New 2.5GbE Infrastructure
Ideal for Pro Gaming and 4K Streaming - Support MacOS 10.15, MacBook, Chromebook, Windows 10/8/7/XP, Ubuntu 20.04.1 LTS.
Note
1. Please make sure that your router, network switch support 2.5G Ethernet.
2. To realize 2.5Gbps data speed, please use CAT6A or above Ethernet cable.
DriverGenius 2.5GbE to USB 3.0 RJ45 Network Adapter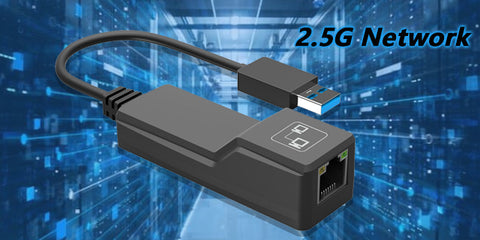 Upgrade 2.5G USB Network adapter
Expand an super fast 2.5gbps(10/100/1000/2500mbps) gibabit ehtenret to your computer

2.5G Ethernet Speeds
With 2.5GBASE-T RJ45 Port which provides gigabit speeds upto 2.5gbps via cat6 or higher cable

Great for Online Games and Live Streamig:
Speed and stability is the key to victory when it comes to online gaming.
The Upgrade DriverGenius 2.5G USB Network adapter is ideal for Gaming and 4K video streaming, Living Steaming without any latency 
upto 2.5 x times faster than traditional USB 3.0 1Gbe Standard Ethernet.

Saving Time Backup and Restore:
Faster upload and download spped. Better reliability than wifi means less time waiting and more time doing. Increasing speed helps save time when backing up compture files to storage or backingup
Compatibility
Compatible with Windows, macOS, Linux, and Chrome OS, USB-C (5Gbps), USB 3.0 and Thunderbolt 3 Systems
Microsoft Windows 11 / 10 / 8 / 7
macOS 10.8 and 10.9 to 10.15
Basic support, install driver or update to 5.6 kernel for full support)
Supported on up-to-date Chrome OS systems
Not compatible with:
ARM-based Windows RT and Windows Mobile
Most Android devices, TiVo Series 2, Wii, or other non-PC/Mac platforms
Nintendo Switch
Not recommended for use with FreeBSD or pfSense
The DriverGenius CUG3125 | USB Type C to 2.5G Ethernet Adapter is evocative, to say the least, but that's why you're drawn to it in the first place.

Inventory Last Updated: Dec 05, 2023
---
We Also Recommend