FAQ - V.TOP AV202-B USB Audio Grabber Cannot Work on macOS Catalina
It's a pitty that Audacity cannot works on macOS Catalina due to macOS' significant updating.  Now Audacity's latest version declares the fact on their software.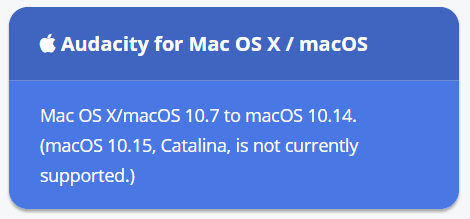 However the AV202-B Hardware is still supported by macOS Catalina with their QuickTime Player. 
Choose File > New Audio Recording.
To change the recording settings, click the arrow next to the Record button. Then choose your microphone and recording quality.
To monitor audio while it's being recorded, use the volume slider.
Click the Record button  to start recording. Click it again to stop recording.