DriverGenius 4XRS232 4 Port USB to DB9 RS232 - A Serial Adapter Hub to Save Your Time and Energy
Posted by DriverGenius Shop on
DriverGenius 4XRS232 4 Port USB to DB9 RS232
- A Serial Adapter Hub to Save Your Time and Energy
Are you someone who has to do multiple tasks with various devices at a time? Do you have to frequently connect and remove devices from your system because you do not have enough ports in your design? Then you must be searching for a solution. Want to know the ultimate answer?
Look no further! We are here to give you a solution for it.
The best way to save time and money is to buy a USB to RS232 Serial Adapter Hub. With four ports, you can connect your computer to multiple devices at the same time. DriverGenius 4XRS232 will help you manage your tasks quickly because you do not have to change the device on one port.
It will allow you to work on up to four tasks simultaneously or just plug in more things at once! You'll be able to use this USB hub with any Windows PC, Mac, Linux machine...you name it!
Want to know the best thing about choosing DriverGenius?
 DriverGenius has all of the drivers for whatever device you are using so that your connections are always working smoothly. They also offer tech support if you have any questions about what kind of adapter would suit your needs best. With DriverGenius, you never have to worry about anything.
Have a problem? Just contact the DriverGenius help center.
So stop wasting hours trying different cables and gadgets because DriverGenius 4XRS232 has got everything waiting for you!
Staggering Specifications of DriverGenius 4XRS232 4 Port USB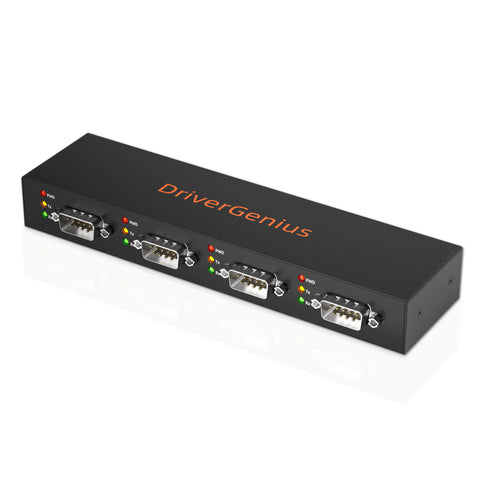 The 4XRS232 USB-to-Serial Adapter Hub is the ideal solution for your serial connector needs.
With its four 9-pin serial ports, you can connect up to four modems, GPS devices, cellphones, hand-held scanners, point of sale systems, touch screens, medical and scientific instruments, industrial process control devices, or even UPS systems to a single computer with its included USB adaptor.
 Never again will you have to update software drivers for separately purchased computers because it supports all Windows systems, including Windows XP/Vista/7(32bit & 64bit)/8(32bit & 64bit)/10(32bit & 64bit), Mac OS 10.6 to 10.15, 11.0 and Linux 2.4 to 4.11(LTS versions only).
What's the exciting thing?
It comes with four LEDs on the side of each port, including power LED, TX LED, and RX activity indicators. These LEDs help you in knowing the connectivity status and also the working of each port. In case you have any problems in connection, you can right away check whether the LEDs are working or not. Seamless installation ensures that no system resources are wasted or out of date.
Operated Features of DriverGenius 4XRS232 4 Port USB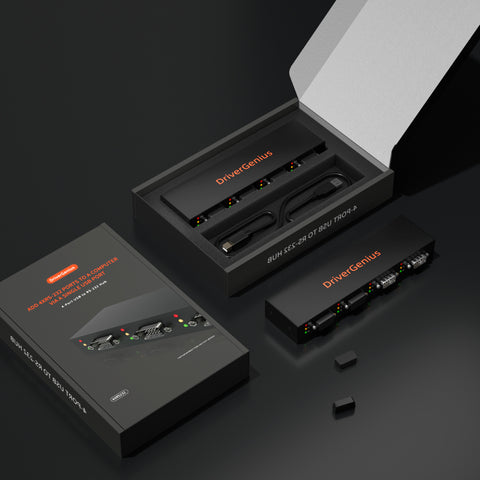 ●   
4 RS-232 Serial Ports
If you're in the market for an easy way to add 4 RS-232 serial ports simultaneously, then you do not need to look further. With this ingenious device that plugs into any USB port and installs within seconds - nothing is holding back from expanding your office's technology with ease.
●   
Compatibility with USB 2.0 and 1.1
Fully compliant with USB 1.1, the perfect accessory for your hybrid or laptop computer! It can also use it in conjunction with any other device that uses this connector, like printers and flash drives.
It is also fully compatible  with both male (USB 2) AND female connectors on devices such as smartphones & tablets - no need to buy multiple chargers.
●   
COM Retention
COM port assignments are saved when the computer reboots, ensuring that your device never has to do this task again.
I'm sure you've heard of "com ports" before. They're what connect a printer or other peripheral with an IP Address to communicate wirelessly without relying on network cables. Well, sometimes, after using our computers for extended periods, we'll turn off power sources and let them sit there dormant- waiting forever until subsequent use.
●   
No IRQ, DMA, I/O address Resources Required.
 This device is easy enough for beginners but also powerful if you're experienced.
This feature makes this application essential because it includes no Latency Timeout Error Codes while uploading data from one computer to another. It means there won't be any frustrating pauses between commands being issued.
●   
No External Power Adaptor Needed
The Driver Genius 4XRS232 is a handy device that provides power for your serial devices and operates off the available USB ports. There's no need to invest in an external battery pack or suffer through annoying cord tangles!
●   
Multiple OS Compatibility
The Driver Genius 4XRS232 is a device for those who are always on the go. With its compact design, this miniaturized USB port allows you to quickly transfer data from one computer or mobile device to another with ease! No matter what operating system they're running - Windows 7/8/10; macOS 10.6 through 15 & 11, respectively - there's no need to worry about compatibility because it works perfectly fine in all versions of these platforms.
●   
Control Automotive Sensors
The industrial world is never static. It works rapidly, with machines constantly being updated and improved upon to provide better service for customers who depend on their workhorses every day of the week. Now you can control all aspects seamlessly without having any trouble or putting yourself out there when it comes time to make an upgrade! With this four-port USB serial adapter hub by DriverGenius, connecting sensors becomes effortless. Because they're ready-made right off the bat and do not waste time finding which one works best before installing, this way, not only do we save resources but also become more efficient overall.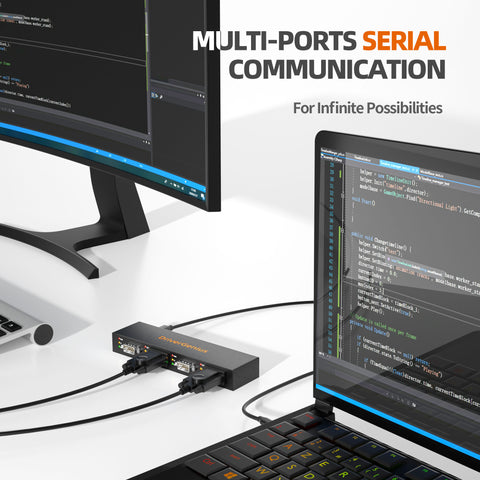 Driver Genius 4XRS232 4 Port USB is Perfect for IT Administrators looking to add legacy functionality and make their older notebooks, PCs, or servers more versatile without needing an integrated RS- 232 port.
The 4XRS232 4 Port USB to DB9 RS232 Serial Adapter Hub is the perfect solution for connecting any satellite receiver, serial modem, or PDA with sync. It allows you to use your device's communications ports to gather more information about what type of equipment might be needed so that it can easily interface electronic devices at home remotely!
The 4XRS232 4 Port USB to DB9 RS232 Serial Adapter Hub is also compatible with connecting your bar code scanners, receipt printers, and other points of sale devices. This device allows you to connect up to four different types or brands at once!
Pros
The 4XRS232 is the perfect solution for connecting your computer to all of those old-fashioned peripheral devices, like printers and copiers. With four ports on this hub, you'll be able to connect up an array of serial connections at once! The integrated wall-mount brackets make it easy as pie - no need to find some niche mounting location near where everyone wants something plugged into (like under a desk). And don't forget about these handy DIN rail clips; they're just what every tinkerer needs when running their custom wiring infrastructure around town or country ranch style.
The rugged all-plastic enclosure is designed with an extra layer of protection against drops or spills that may occur while working.
The 4XRS232 4 Port USB to DB9 RS232 Serial Adapter Hub is perfect for anyone who needs an easy way to connect their computer or device with serial devices. With this hub, you won't have any messy cables because all the signal is sent through a straightforward port!

Another benefit is that you will never have to worry about whether this port will work with your system or not. Hence, it rushes because it supports almost all the operating systems, so you never have to think before purchasing this USB port serial hub.

DriverGenius 4XRS232 is an innovative and affordable way to add multiple serial devices to your system without any extra effort.
Cons
The 4XRS232 USB Serial Hub is not for everyone. It does not support devices such as serial mice that require an IRQ number or I/O address. However, it can still work with other electronics by using this hub's mute feature to reduce noise interference from nearby computers and printers.
---
---
Share this post
---
---
---
0 comment