DriverGenius 2.5GbE USB 3.0 Network Adapter
Posted by VTOP-eMall on
DriverGenius USB 3.0 Type A to RJ45 2.5Gbps Ethernet Adapter.
It adds a wired RJ45 Ethernet connection to your desktop notebook or ultrabooks with Superspeed USB 3.0 2.5Gbps overing Cat6 Cabling, by connection 2.5g network adapter. Supporting 2.5GbE/ 1GbE/ 100MbE connections, especially useful for laptops that lack native Ethernet connectivity.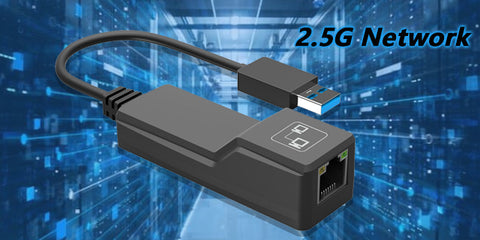 Upgrade 2.5G USB Network adapter
Expand an super fast 2.5gbps(10/100/1000/2500mbps) gibabit ehtenret to your computer

2.5G Ethernet Speeds
With 2.5GBASE-T RJ45 Port which provides gigabit speeds upto 2.5gbps via cat6 or higher cable

Great for Online Games and Live Streamig:
Speed and stability is the key to victory when it comes to online gaming.
The Upgrade DriverGenius 2.5G USB Network adapter is ideal for Gaming and 4K video streaming, Living Steaming without any latency
upto 2.5 x times faster than traditional USB 3.0 1GbE Standard Ethernet.

Saving Time Backup and Restore:
Faster upload and download spped. Better reliability than wifi means less time waifing and more time doing.
Increasing speed helps save time when backing up compture files to storage or backingup

Features:
1. Support 10/100/1000mbps & 2.5Gbps bandwidth
2. Support twisted pair crossover detection and auto-correction
3. Plug and play, Hot Swap, USB Bus Power
4. Bulit In Driver Version. No need CD Room
4. Support WOL (wake-on-LAN) full duplex flow (10 m/100 m/1 G/2.5 G rate) auto negotiation.
---
Share this post
---